Peter Laurence
Landscape photographer based in the N.W. of England.
The main emphasis of my work is in exploring the human land relationship. How the landscape has come to reflect our usesage of it and the impact it has on our work and leisure time.
The Uk landscape embodies a unique sense of history, and one that can be traced back thousands of years, occasionally manifesting itself through visible artifacts, groundwork's and monuments. Having been created from the land, they have through the passing of time become a part of it. Seeing these impacts and the settings in which they are placed one cant help think back to the lives of the people that created them. and perhaps it is these ancient echos one feels and tries to capture.
Several projects are maintained concurrently in this vain, including Britain's Coast, The Forest Of Bowland and Divided Land.
My next exhibition will take place at Lytham Heritage Gallery 14th Aug – 2nd September 2018
Titled "Coast". It will include new work from my forthcoming book on the coast of Britain and associated islands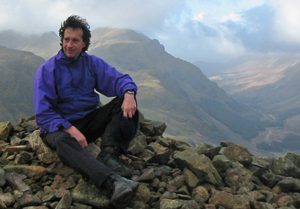 BOOK PUBLISHED: 2017 – Lytham & The Fylde Coast
COMPETITIONS
Take A View
Landscape Photographer Of The Year
Commendation Awards
2008, 2011 & 2012
IGPOTY
International Garden Photographer Of The Year 2011
Commendation Award. Exbn at Kew Gardens 2012
National Geographic Magazine Photo Comp 2009
Royal Botanic Gardens (RGBE)
Landscape Prize 2009
Winner of the Kendal Mountain Film Festival Photographic Prize 2006
Winner Lancaster Gazette Prize 2006
Winner of the Eltermere
Photographic Competition 2005
Lancaster University Photo Prize 2005
BOOKS & MAGAZINES
Sunday Times Magazine Feature 28/10/2012
Landscape Photographer Of The Year 2012
Awards Book. P160 Collection 6
Sunday Times Magazine Feature 23/10/2011
Landscape Photographer Of The Year 2011
Awards Book. P160 Collection 5
Landscape Photographer Of The Year 2008
Awards Book. P160 Collection 2
OTHER INTERESTS:
Voluntary Warden for the Lake District National Park
Climbing & Mountaineering
Author: "The Hodder Way Walk" www.hodderway.co.uk
Author: "Three Aqueducts Walk Kendal " (linked from hodderway site)
Thirlmere Aqueduct Mapping and Historical Documentation
http://www.jdscomponents.co.uk/gates/